Photographs are subject to Copyright. They should not be re-used without permission from Angela Dolleymore.
Our team
Angela Dolleymore, together with her competent, calm and friendly team, provides you with a professional service that you would expect from Absolutely Delicious.
Angela's knowledge and experience ensures that you have peace of mind when you select Absolutely Delicious to cater for your occasions.
From planning your event through to clearing up after your guests have gone home, Absolutely Delicious supplies you with a team that becomes your competent and discrete partner.
Angela is pleased to talk to you about the level of staffing that you require for your future occasions.
These are a selection of the wonderful testimonials that we have received.
"Thank you so much for making the party an absolute success. All the letters we have had from our guests mentioned the food".
"Dear Angie, Once again, I cannot thank you enough for all that you did for us with your wonderful catering. Eveybody remarked on how smoothly everything ran".
"Congratulations. I just don't know how you and your team coped with everything".
"Thank you Angie. Absolutely superb food".
"Dear Angela. Thank you for your fabulous catering at our wedding. Please thank your staff at Absolutely Delicious. You made our day special".
Telephone Angela Dolleymore between 9am and 6pm Monday to Saturday on 01285 885340.
Email: Absolutely Delicious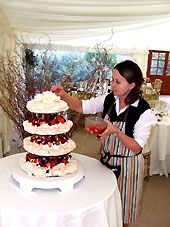 Angela Dolleymore prepares a Pavlova wedding cake.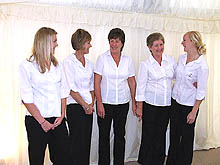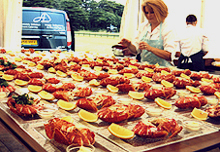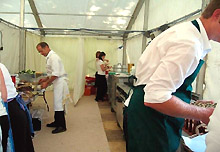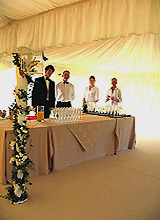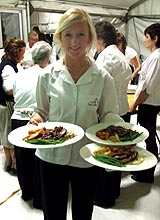 ©
You choose the level of service you require